Full-time Acumentrics employees have access to a suite of employee benefits designed to help you maximize the health and well-being of you and your family. Below is a brief description of the benefits and plans available to you. For more specific information please contact Human Resources.
Paid Time Off
Vacation – As an Acumentrics employee you accrue vacation time based on years of service. Employees typically start with 10 vacation days per year. Acumentrics allows you to carryover 80 hours of vacation time.
Sick Leave – Full-time employees are granted 5 sick days per year for use in addressing their own illness or to tend to the illness of a household family member.
Holidays & Personal Days – Acumentrics typically observes 9 Company paid holidays. 2 Floating Holidays are also granted each year, which can be used for specified celebratory days. Full time employees are also eligible for personal days prorated based on years of service. Personal days cannot be carried forward, and replenish at the beginning of the next calendar year.
Medical: Aetna
At Acumentrics we realize our employees have different needs when it comes to their medical coverage.
All medical plans have a deductible which is partially funded by Acumentrics. Employees submit for reimbursement through our Participant Funding Arrangement (PFA).
*On average, Acumentrics contributes 75% toward the cost of Healthcare coverage. Your contribution is deducted pre-tax.
Dental Insurance: MetLife – The dental plan is a PPO plan. You can choose any dentist; however you will save money and increase coverage by using a Dental Blue in-network dentist.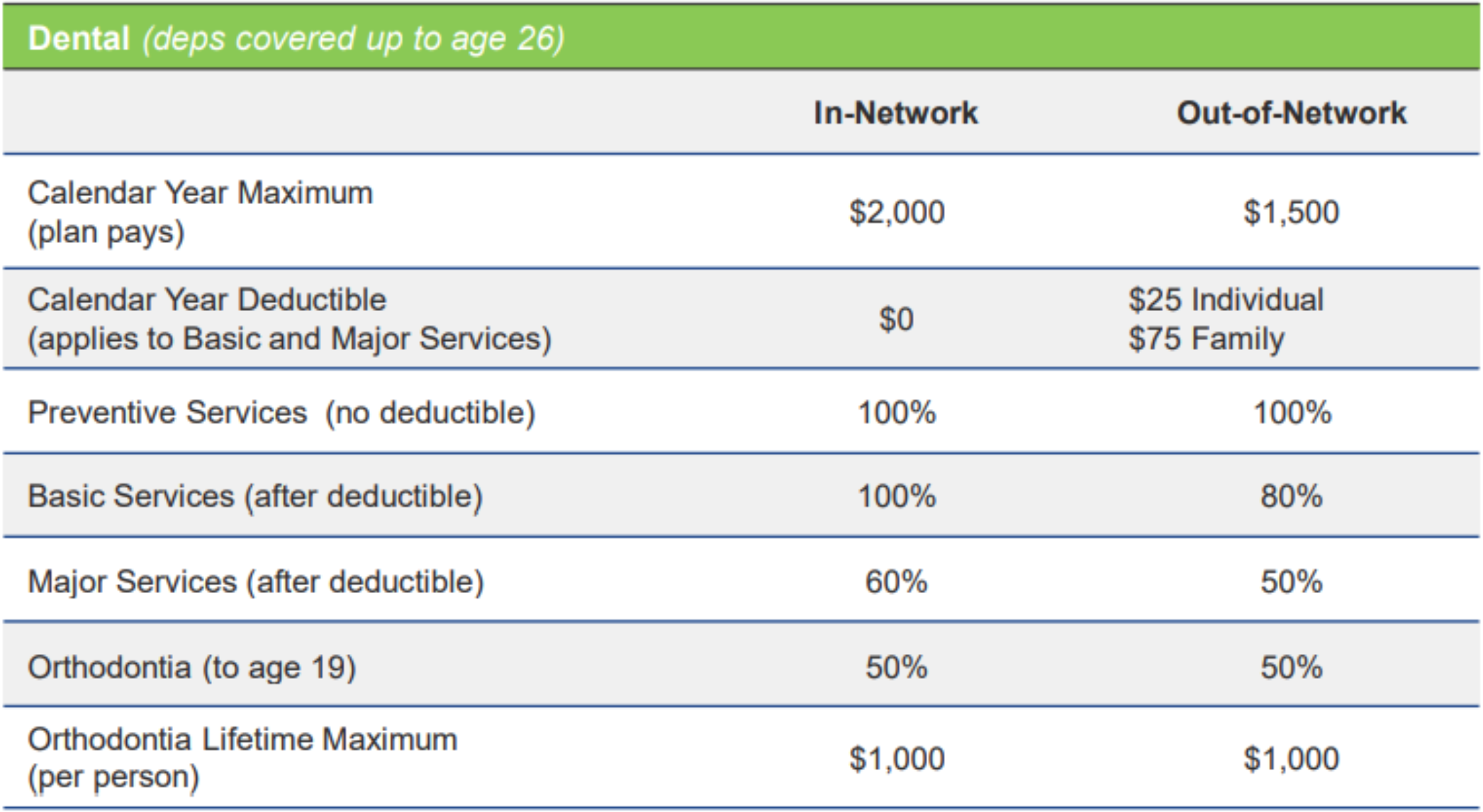 Vision: VSP – The Vision Plan is Voluntary. The employee is responsible for paying 100% of the monthly premium. VSP offers the largest network of vision providers.
Flexible Spending Account: RSI – Flexible Spending Accounts (FSA's) allow employees to have funds deducted from their paycheck pre-tax to pay for medical and dependent care expenses. The medical FSA can be used to pay for out-of-pocket medical, dental and vision expenses. The maximum amount an employee can contribute to the medical account is $3,050. The dependent care account allows you to pay for expenses incurred for day care for children under age 13. The dependent care account contribution maximum is $5,000.
Life Insurance: Reliance Standard
Life Insurance is provided to all employees at no cost to them. The benefit is two times your annual salary to a maximum of $500,000. Please note that you will need to select a beneficiary when you enroll in this plan. If after selecting the beneficiary you have a life-changing event such as a marriage, birth, divorce etc. you should update your beneficiary form at that time.
Optional Supplemental Life is also available. You can purchase additional life insurance for yourself, your spouse and/or your dependents.
Special note: If you do not elect optional life insurance or the voluntary disability plan(s) during your initial eligibility period you will need to complete a medical questionnaire when requesting coverage at a later date.
Disability Insurance: MetLife
Acumentrics provides full-time employees with company-paid long and short-term disability coverage. Short-term disability pays for 60% of your weekly salary up to $1,200 per week, for 13 weeks. Long-term disability provides for 60% of your monthly salary, up to $7,500 per month.
The premiums for this coverage will be added to your W-2 at the end of the year as other income so the benefit, should you need it, is tax free!
Tuition Reimbursement
Acumentrics believes that continuing education in job-related areas is very important. Therefore, all full-time employees are eligible for our Tuition Reimbursement Program effective their first day of employment.
Retirement Benefits
As an employee working 1,000 regular hours or more a year, you are automatically enrolled in the Acumentrics 401K Retirement Plan. Acumentrics believes it is a good idea to start saving now for your future!
The Company match is dollar for dollar, up to 3% with an annual Company Contribution cap of $4,000. Vesting is based on a 4 year cliff.
The retirement plan is administered by Principal. If you are not sure how to invest your money – let Principal do it for you by enrolling in one of their Lifestyle Plans. You can enroll in the plan and make contribution or fund changes on-line. You can elect not to participate in the plan by simply logging on to www.principal.com.